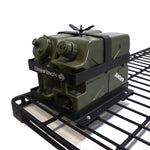 Green 5 Gallon Scepter Water Can 
This Green Scepter Water Can is perfect for mounting on your roof rack. This water container holds 20 liters or 5.28 gallons of water. 
Already a global leader in the design and manufacture of portable fuel and water containers for the marine and consumer markets, Scepter's line of military products are rugged, reliable, and built to last. Tough enough for soldiers, and ideal for the outdoor enthusiast, Scepter's military water containers are perfect for camping, emergency management, and off-road adventures!
Benefits

Easy to Transport
Lighter, Better, Safer
Food Grade Material
Superior Impact resistance
BPA Free