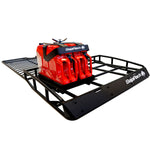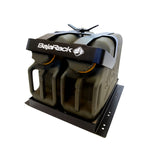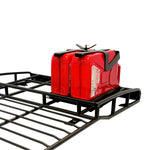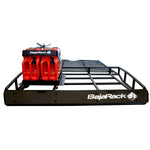 Land Rover LR3 & LR4 Roof Rack Fuel Can Holder
This Land Rover LR3 & LR4 roof rack fuel can holder is durable and lightweight. Make your BajaRack more versatile by adding a roof rack fuel tank. 
Our brackets fit (2) 5 Gal./20 Liter fuel cans. They are designed to protect your fuel caps and are lockable. Also, our new handle makes it easy to take them off and on, and, if you have NATO cans, the handle can help you open the lock on the spouts.
This accessory mounts in front of Discovery 3 (LR3) or Discovery 4 (LR4) STD and EXP racks. Accessory BR-TENTPLATES-0 are needed for mounting in the back of the rack.
You can secure your accessory with a lock similar to the: Masterlock.com
NOTE: Please check the compatibility of the accessories for your rack model. By selecting the rack model you will find the compatible accessories on our website by scrolling down.
Suitable for can dimensions:13.75" (349 mm) x 6.75" (171 mm) x 18.75" (476 mm)
Compatible Fuel/Water cans: Nato, Blitz, Midwest Can Company (sold at 4Wheel Parts), Wavian and Scepter (except water cans)
Mounting method: