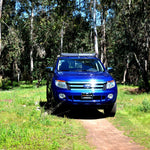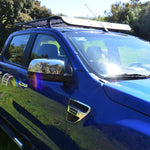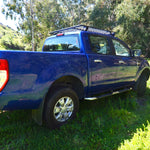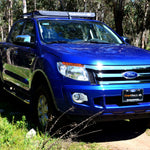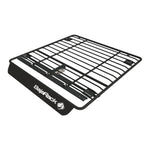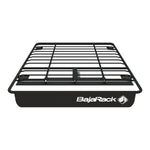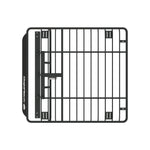 Ford Ranger Roof Rack with SPY Light System - Utility (flat) (2013-2022)
This Rack is AVAILABLE for the international market. If you want to order one please call us at 1 888 538 0588.
This flat Ford Ranger Roof Rack with SPY Light System is built with US-made, cold-rolled steel tubing, and best-in-class powder coating to ensure quality.
Flat, UTility-style roof rack with SPY Light System for the 2013-2022 series 4-door Ford Ranger; 52" L x 48" W x 1.5" T; Requires drilling into the roof; all mounts, actuator, actuator cable & switch, and swage nuts are included. LED bar NOT included. Compatible with Bajadesigns S8 40" LED bar and Rigid Industries E-Series 40" LED bar. Adapter for VisionX LED bar available (BR-FRRGR-UT-SPY-VisonX-SPB).
Each rack includes all mounting brackets, stainless steel hardware, and aluminum wind deflector.
Material and Thickness: 1" (25.4mm), 3/4" (19.05mm) and 1/2''(12.7mm) Steel tubing.
Wind deflector: 0.062" (1.57mm) 5050-H32 Aluminum
Finish: Epoxy primer (rust inhibitor) with black powder coating.
Rack weight: 52 Lb (23.58Kg)
Load Capacity: Dynamic (while driving) 300Lb (136 kg); Static 600Lb (272 kg)
Measurements: 48" (1219.2mm) Wide x 52" (1320.8mm) Long x 4" (101.6mm) Tall
Cargo area: 17.33ft² (1.61m²)
Mounting method: Mounting Brackets (4 total), drilling required
Testimonials
LR34 Customer
"Let me say how much I love your product. It's killer and rare to find something so well made in todays world."
Discovery Customer
"My BajaRack is super rugged and my Disco is ready for adventure. I can haul loads of gear with confidence. And it looks great, too."
FJ Cruiser Customer
"I have to first off say THANK YOU for producing a great product... The stability of your products saved my 14-year-old son and my life"