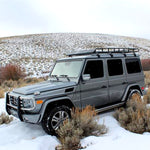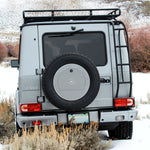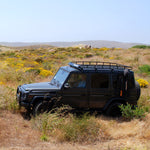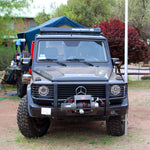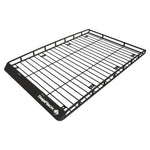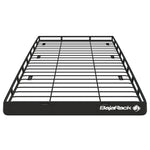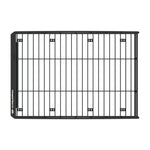 Mercedes G Wagen Roof Rack - Standard Basket (1990-2018)
This standard basket Mercedes G Wagon roof rack is built with US-Made, cold-rolled steel tubing and best-in-class powder coating to ensure quality.
It provides the extra cargo space you need to help you tackle even the most challenging of adventures. Made from US cold-rolled, high nickel steel, so you know it's going to be strong and, coated with super sturdy epoxy and finished with a durable black powder coat, you know it's going to last. It is designed to allow full functionality of your sunroof so you can still catch some rays while your truck works hard. The rack comes with all mounts, stainless steel hardware, and one aluminum wind deflector patented to reduce noise and drag.
NOTE:
This rack fits with
G-500 Series 4 Door (2002-2015)G-463 Series 4 Door (1990-2015)
Each rack includes all mounting brackets, stainless steel hardware, and aluminum wind deflector.
Material and Thickness: 1" (25.4mm) and 1/2''(12.7mm) and 3/4"(19.05mm) Steel tubing
Wind deflector: 0.062" (1.57mm) 5050-H32 Aluminum
Finish: Epoxy primer (rust inhibitor) with black powder coating
Rack weight: 80 Lb (36.28Kg)
Load Capacity: Dynamic (while driving) 300Lb (136 kg); Static 600Lb (272 kg)
Measurements: 56" (1422.4 mm) Wide x 84" (2133.6mm) Long x 5" (127 mm) Tall
Cargo area: 28.87ft² (2.68m²)
Mounting method: Rain Gutter Mounts (8 total)
Testimonials
LR34 Customer
"Let me say how much I love your product. It's killer and rare to find something so well made in todays world."
Discovery Customer
"My BajaRack is super rugged and my Disco is ready for adventure. I can haul loads of gear with confidence. And it looks great, too."
FJ Cruiser Customer
"I have to first off say THANK YOU for producing a great product... The stability of your products saved my 14-year-old son and my life"