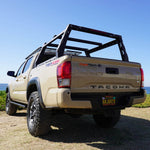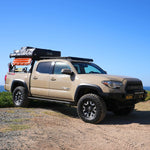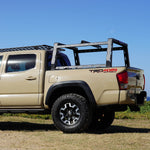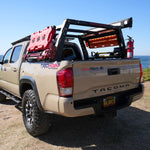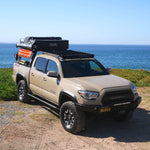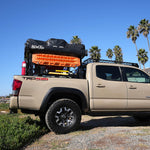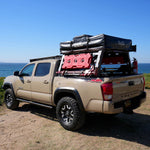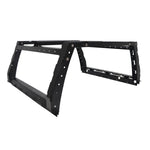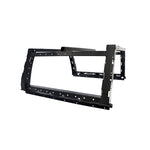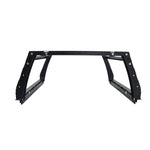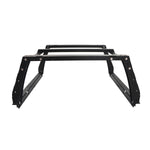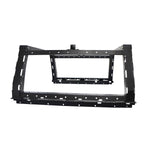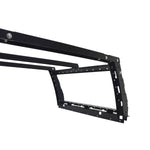 3rd Gen Tacoma Short Bed Rack (2016-2023)
The most versatile cargo system for the bed of your Tacoma truck. We can make this claim because there's nothing in the market even close to the versatility of our rack. Compatible with '16-'23 Toyota Tacoma short bed.
This Rack took several years to develop and it's finally here along with several accessories. The rack was designed so that it can be used for camping/off-road enthusiasts, rough & tough utility workers, and first responders. It's the same platform for all 3 applications – the only difference is the accessories.
The structure was designed to easily route cables and connectors to install auxiliary lights & for safety we added a stop light in the rear upper beam. When the Bed Rack is combined with our Tacoma Double Cab UT (flat) rack that mounts to the cab of the vehicle the functionality is even greater. The installation is made directly to the factory bed rails without any drilling, and the rack comes in 5 pieces.
Each rack includes all mounting brackets, stainless steel hardware, and aluminum wind deflector.
Material and Thickness: The rack is made with Aluminum
Finish: Epoxy primer (rust inhibitor) with black powder coating
Max Load Capacity: Static 850Lb (385.55 kg)
Measurements: 51" Long X 62" Wide X 24" High 3 1/8" height from rack top to cab roof
Mounting method: 5 structural components
Testimonials
LR34 Customer
"Let me say how much I love your product. It's killer and rare to find something so well made in todays world."
Discovery Customer
"My BajaRack is super rugged and my Disco is ready for adventure. I can haul loads of gear with confidence. And it looks great, too."
FJ Cruiser Customer
"I have to first off say THANK YOU for producing a great product... The stability of your products saved my 14-year-old son and my life"