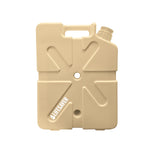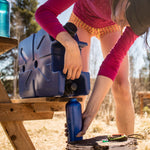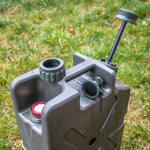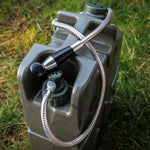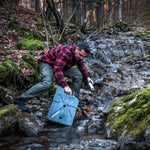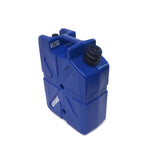 LifeSaver Roof Rack Water Tank
This LifeSaver roof rack water tank has a 20,000-liter capacity and comes Tan. This durable roof rack water storage container is a great way to make your BajaRack roof rack more versatile. 
A robust and portable water purifier capable of filtering 20,000 litres/5,282 US gallons of clean drinking water, removing viruses, bacteria, cysts and parasites instantly. The LifeSaver Jerrycan holds up to 18.5 litres of water at any one time and is designed to support those with a greater demand for clean water such as group expeditions, adventurers embarking on overland travel, families or those setting themselves up for off-grid living.
The LifeSaver Jerrycan was designed to store and carry dirty water. We recommend storing dirty water, either in the Jerrycan or in other storage containers, and filtering through the Jerrycan as and when clean water is required, to prevent recontamination of previously filtered water.Filter water for drinking, for washing with the addition of the LifeSaver shower attachment and for cooking. No need for chlorine or chlorine dioxide.
The LifeSaver Jerrycan 20000UF is a microbiological water filter that uses ultra filtration technology to filter out viruses, bacteria, cysts and parasites from contaminated water sources. LifeSaver technology filters out bacteria to a minimum of Log 6 (99.9999%), viruses to a minimum of Log 4 (99.99%) and cysts to a minimum of Log 3 (99.9%) as specified by Independent Test House to exceed NSF P248 compliance standards, for virus, bacteria and protozoan cyst reduction by the US Army Public Health Center (MEDCOM)
Weight: 4.35kg
Dimensions: 35 x 18 x 51 cm
Virus Reduction*: > 99.99%        (Log 4)
Bacteria Reduction*: > 99.9999%    (Log 6)
Cyst Reduction*: > 99.9%          (Log 3)
Filter Media: Ultra Filtration (UF)
Chemical reduction: Activated carbon filter removes chlorine, taste and odour, improving the palatability of water
Dry Weight: 3.9 kg/137 oz
Volume of water filtered**: 20,000 litres/5,300 US gallons
Initial flow rate**: 4 litres/min @ 0.6 bar (g)
Jerrycan storage capacity: 18.5 litres/4.9 US gallons
Replaceable cartridge: Yes
Warranty: 2 Years

*Tested by BCS laboratories Issued 28/08/18 based on full NSF P248 Protocol. These units are tested with two different types of water to challenge the filtration capability beyond the standard use. All figures quoted are taken from the stressed challenge phase of the test imitating sewage contaminated water.
**Volume of water filtered by the product and flow rates dependent on the composition and turbidity of the feed water.