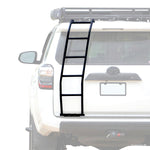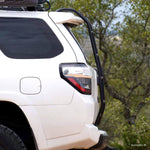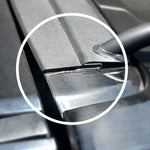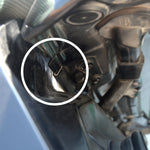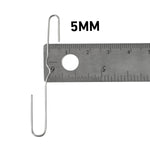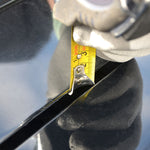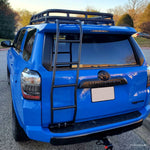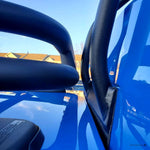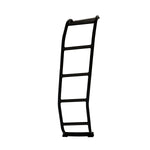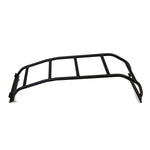 5th Gen 4Runner Roof Rack Ladder
This ladder is built with US-Made, cold-rolled steel tubing and best-in-class powder coating to ensure quality.  
COMPATIBLE WITH TRD PRO 4RUNNER FACTORY RACK
Our strong, steel 4Runner ladder is made specifically for your 5th Gen 4Runner. Unique design made to provide roof access and maximize the field of vision.
Easy, no-drill, permanent installation. Compatible with most roof rack brands. Mounts to the rear door. Epoxy undercoat and black powder coat finish.
Before you install your new BajaRack ladder check the gap on top of the hatch it needs to be 5/16" to 3/8" inch, if the upper top of the ladder does not enter the gap on the hatch does not install, check the gap clearance with a dealer or shop.
EXTREMELY IMPORTANT NOTE:
Please verify the upper (edge) of the back hatch measurement before purchasing or installing your ladder, the standard dimension is between 0.1" (2.5mm) and 0.2" (5mm) if this dimension is larger than 0.2" (5mm)  don't install the ladder, Toyota in some models applies more sealant in this area that can cause the ladder to not fit.
NOTE: Please check the compatibility of the accessories for your rack model. By selecting the rack model you will find the compatible accessories on our website by scrolling down.
Material and Thickness: 1 Inch (25.4 mm) carbon steel tube and 1/8 Inch (3.175 mm), 3/16 Inch (4.7 mm) steel
Finish: Epoxy primer (rust barrier) with black powder coating
Weight Capacity: 200Lb (90.71 kg)
Ladder Weight: 17 Lb (7.71Kg)
Mounting method: The Ladder install directly on the rear door. (No drilling required)