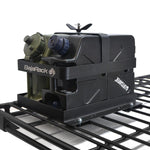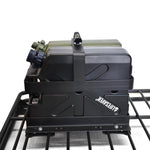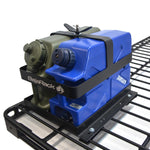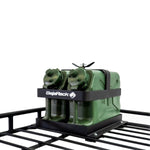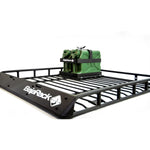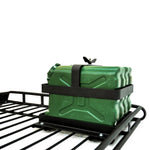 Roof Rack Water Tank Mount
This durable Roof Rack Water Tank Mount is built with US-made, cold-rolled steel to ensure quality. Make your roof rack more versatile with BajaRack. 
Metal brackets for mounting two Scepter water cans with these dimensions 13.75" (349 mm) x 6.5" (165 mm) x 19" (482 mm) on the floor of STD and mesh racks.
You can secure your accessory with a lock similar to the: Masterlock.com
NOTE: Please check the compatibility of the accessories for your rack model. By selecting the rack model you will find the compatible accessories on our website by scrolling down.
Suitable for can dimensions:13.75" (349 mm) x 6.5" (165 mm) x 19" (482 mm)
Compatible Fuel/Water cans: Scepter
Mounting method: