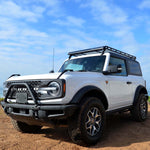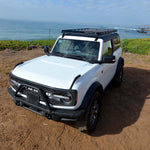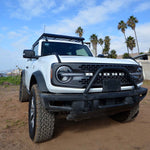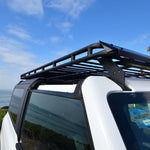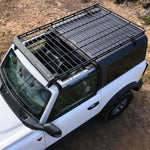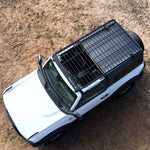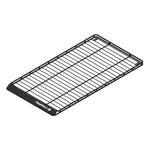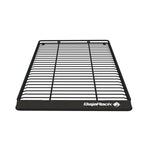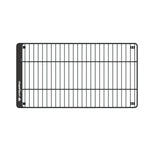 Ford Bronco Roof Rack 2 door Hard Top - Standard Basket (2021-2023)
The hard top panels can be removed when the BajaRack is installed.
This roof rack just - like the vehicle - is rugged, versatile, and very cool; it provides the extra cargo space you need to help you tackle even the most challenging of adventures. Made from US cold-rolled, high nickel steel, so you know it's going to be strong and, coated with super sturdy epoxy and finished with a durable black powder coat, you know it's going to last.
Each rack includes all mounting brackets, stainless steel hardware, and aluminum wind deflector.
Material and Thickness: 1" (25.4mm) and 1/2''(12.7mm) and 3/4"(19.05mm) Steel tubing
Wind deflector: 0.062" (1.57mm) 5050-H32 Aluminum
Finish: Epoxy primer (rust inhibitor) with black powder coating
Rack weight: 75Lb (34.01 kg)
Load Capacity: 200Lb (90.71 kg)
Measurements: 48" (1219.2 mm) Wide x 81.5"(2070.1 mm) Long x 3" (76.2 mm) Tall.
Total Height (Top of roof to top of rack): 5.25"
Mounting method: 4 mounting brackets
Testimonials
LR34 Customer
"Let me say how much I love your product. It's killer and rare to find something so well made in todays world."
Discovery Customer
"My BajaRack is super rugged and my Disco is ready for adventure. I can haul loads of gear with confidence. And it looks great, too."
FJ Cruiser Customer
"I have to first off say THANK YOU for producing a great product... The stability of your products saved my 14-year-old son and my life"