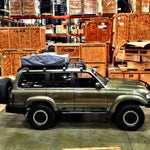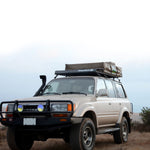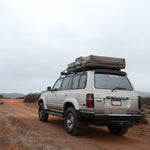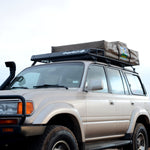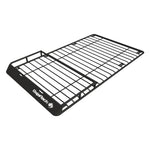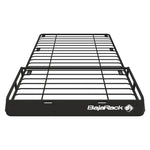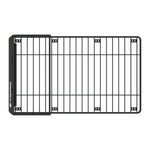 EXP Land Cruiser 80 Series Roof Rack (20" front basket & rear flat section) (1990-1997)
This EXP Land Cruiser 80 Series Roof Rack has a 20" front basket and a rear flat section and is built with US-Made, cold-rolled steel tubing to ensure quality. 
Rack for Roof Top Tents, This rack has a flat area for a "Folding Style" Roof Top Tent and a small basket for essential gear and fuel in the front. The installation is done directly to the body frame without drilling.
This rack mounts on the rain gutters of the vehicle. The outside frame is made of 1-inch tubing and the flooring with ½ inch cold roll steel tubing. The rack comes with all mounts, stainless steel hardware, and two aluminum wind deflector patented to reduce noise and drag.
Each rack includes all mounting brackets, stainless steel hardware, and aluminum wind deflector.
Material and Thickness: 1" (25.4mm) and 1/2'"(12.7mm) Steel tubing
Wind deflector: 0.062" (1.57mm) 5050-H32 Aluminum
Finish: Epoxy primer (rust inhibitor) with black powder coating
Rack weight: 70Lb (31.75Kg)
Load Capacity: Dynamic (while driving) 300Lb (136 kg); Static 600Lb (272 kg)
Measurements: 48"(1219.2mm) Wide x 82" (2082.8 mm) Long x 5" (127mm) tall
Flat area for Roof Top Tent: 48"(1219.2mm) Wide x 55.75" (1416.05 mm) Long
Total Height (Top of roof to top of rack): 8.75"
Mounting method: 8 Roof mounts and 8 clamps.
Testimonials
LR34 Customer
"Let me say how much I love your product. It's killer and rare to find something so well made in todays world."
Discovery Customer
"My BajaRack is super rugged and my Disco is ready for adventure. I can haul loads of gear with confidence. And it looks great, too."
FJ Cruiser Customer
"I have to first off say THANK YOU for producing a great product... The stability of your products saved my 14-year-old son and my life"